The international bar in Torrox Costa.
With outdoor terrace and view to the sea.
The "Cocktail and Music Bar" in Torrox-Costa – since 2015 !
You know it: You go or fly on vacation and want to get to know the local culture.
The destination is called Torrox Costa – usually in autumn, winter or spring,
because here we have the best climate on the Mediterranean.
But everyone is always happy to hear something from "home" or to speak German.
Here in our bar you will learn everything about the German community in Torrox and surroundings.
We are here for you daily from 19:00(July & August from 21:00).
Look forward to good music & nice conversations among friends.
Bea Tegtmeyer & your team !
Bea's Oktoberfest 2022.
Also this year there are many "treats" at Oktoberfest time in Torrox Costa !
From 22 September to 25 September daily from 19:00 !
Friday with our "DJ from Bavaria" – DJ Lobo !
Saturday first "Yin JAM" from Spain – with us !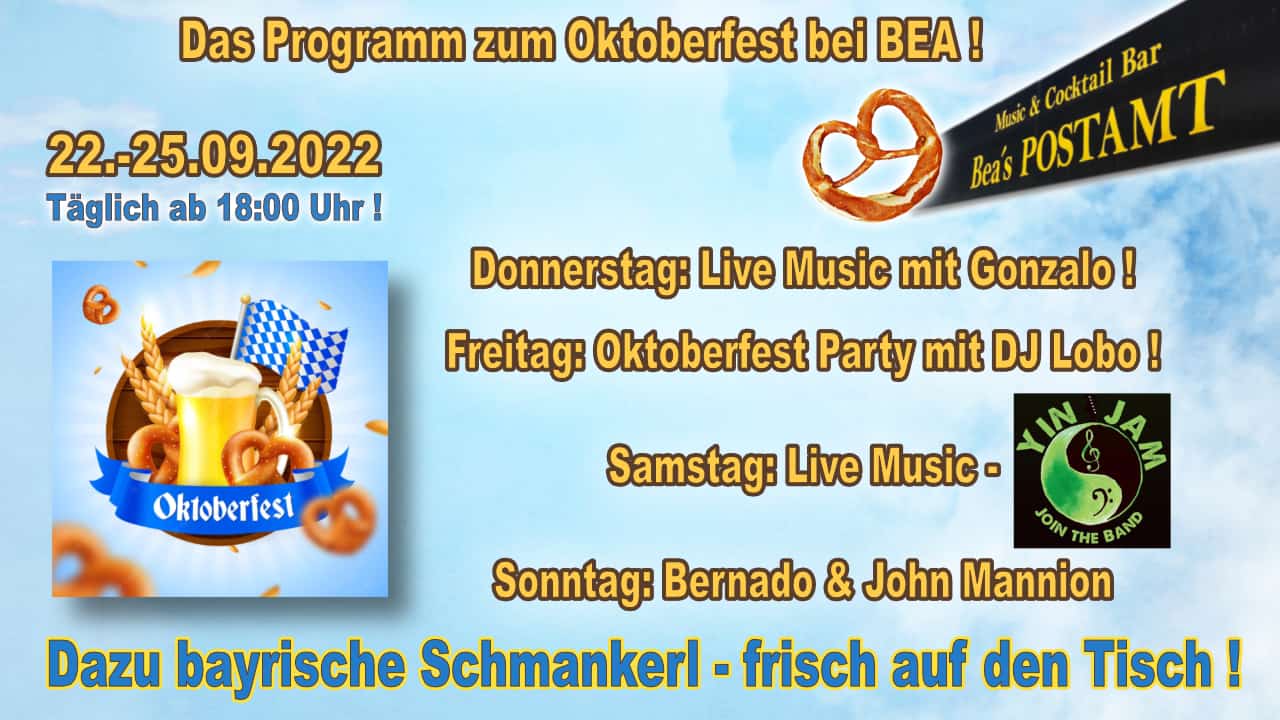 Spring – summer – autumn or winter.
Freely according to the motto: Something is always – there is something "special" every month.
He is back – From now on every Friday:
Our DJ Lobo, alias "DJ-Wolfgang" known from the Aldiana vacation clubs
and from many TUI Hotel discos.
He is back and will stay until spring.
Just ask our DJ – for your favorite title (s) !
Happy to dance music & the good old rock classics
from the 60s / 70s / 80s and 90s !
Music from the good times when "we" were still young !